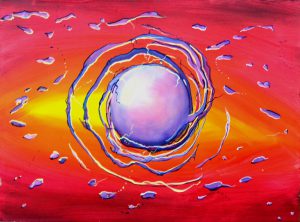 My painting "I  AM ," from my Enigmas series  won the third place prize at Art of Possibilities" A national exhibit at The Courage Kenny Rehabilatation Institute, Minneapolis Minnesota.
My painting and/or other art works have been featured in national magazines and newspapers  for example "WATERCOLOR '88" ( An annual publication by American Artist Magazine. My artwork has been seen on multiple commercial television news shows and on Public Television. I have been interviewed multiple times  on public radio. I received the Ad Astra per Aspera commendation from the South Carolina Arts Commission for Exemplary performance in the Mobile Arts residency program. I have appeared in many one man and juried shows starting with a first place prize in Junior High School. At ETSU I was the first student to get in the honors show in Life Drawing, Figure Drawing and Three Dimensional in one year. At USC (Columbia, SC) I was in the senior honor show in printmaking. IU have received public competitive commissions from organizations like the SCAC Art Truck mural.  My best awards have been the commissions and purchases from my many patrons.
My children's books are published by Richard C Owen. My poetry has been published in numerous publications and anthologies. I won the International Golden poet award and have been listed in About the Author. I also had one of my poems published in the some pretentious  Poems by the World's Best Living Authors.